Hi everyone, and welcome to another post! This one is a bit different today – it is books I'd love to read/purchase and also why I'd like to read/purchase!
Friend Request
"1989, When Louise first notices the new girl who has mysteriously transferred late into their senior year, Maria seems to be everything the girls Louise hangs out with aren't. Authentic. Funny. Brash. Within just a few days, Maria and Louise are on their way to becoming best friends.

In 2016 Louise receives a heart-stopping email: Maria Weston wants to be friends on Facebook. Long-buried memories quickly rise to the surface: those first days of their building friendship; cruel decisions made and dark secrets kept; the night that would change all their lives forever.

Louise had always known that if the truth ever came out, she could stand to lose everything. Her job. Her son. Her freedom. Maria's sudden reappearance threatens it all, and forces Louise to reconnect with everyone she'd served ties with to escape the past. But as she tries to piece together exactly what happened that night, Louise discovers there's more to the story than she ever knew. To keep her secret, Louise must first uncover the whole truth, before what's known to Maria – or whoever's pretending to be her – is known to all."
I don't know if you've watched the horror/thriller call 'Unfriended'? I feel like this book would be a bit like that. I'd love to find out more of what happens in this book, and what the secrets are.
Thriller | Mystery | Fiction | Contemporary | Suspense
It's Always the Husband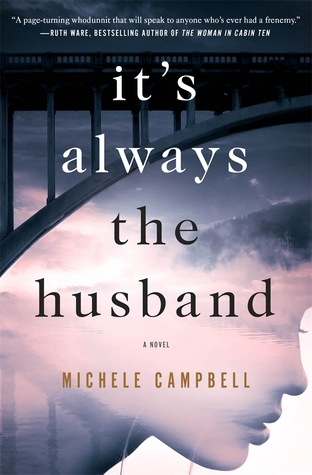 "Kate, Aubrey and Jenny. They first met as college roommates and soon became inseparable, even though they are as different as three women can be. Twenty years later, one of them is standing at the edge of a bridge, and someone else is urging her to jump.

How did things come to this?

As the novel cuts back and forth between their college years and their adult years, you see the exact reasons why these women love and hate each other – but can feelings that strong lead to murder? Or will everyone assume, as is often the case, that it's always the husband?"
I seem to read a lot of books that involve 3 main characters that are very different, and I feel like this one will be no exception. I am really intrigued to find out why someone is about to jump off a bridge, and who on earth would egg them on. I'd love to find out more about these characters and their different personalities and lives.
Mystery | Fiction | Thriller | Suspense
The Girl on the Train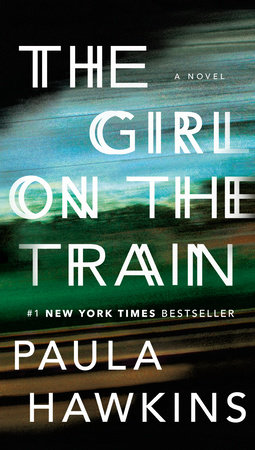 "Rachel catches the same commuter train every morning. She knows it will wait at the same signal each time, overlooking a row of back gardens. She's even started to feel like she knows the people who live in one of the houses. 'Jess and Jason' she calls them. Their life – as she sees it – is perfect. If only Rachel could be that happy. And then she sees something shocking. It's only a minute until the train moves on, but it's enough. Now everything's changed. Now Rachel has a chance to become a part of the lives she's only watched from afar. Now they'll see; she's much more than just the girl on the train."
I've been wanting to read this one for a while as I have heard it is fantastic. I haven't seen the movie either, which I would also love to see. I feel like this one would be a really good thriller.
Fiction | Mystery | Thriller | Crime
Then She was Gone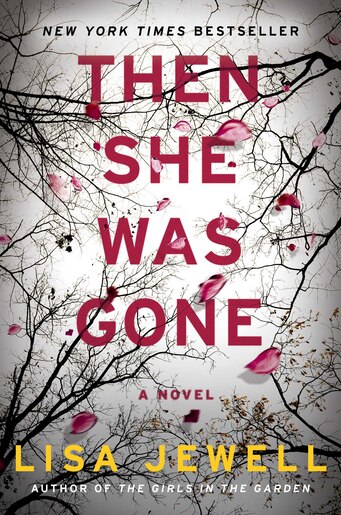 "THEN
She was fifteen, her mother's golden girl. She had her whole life ahead of her. And then, in the blink of an eye, Ellie was gone.

NOW
It's been ten years since Ellie disappeared, but Laurel has never given up hope of finding her daughter. And then one day a charming and charismatic stranger called Floyd walk into a café and sweeps Laurel off her feet. Before too long she's staying the night at this house and being introduced to his nine-year-old daughter. Poppy is precocious and pretty – and meeting her completely takes Laurel's breath away.

Because Poppy is the spitting image of Ellie when she was that age. And now all those unanswered questions that have haunted Laurel come flooding back.

What happened to Ellie? Where did she go? Who still has secrets to hide?"
I am quite obsessed with watching true crime videos on YouTube, so this book sounds like it is right up my alley, and I'm not sure why I have never read it before! I am very interested with how this relationship turns out and what the hiding secrets are, and who's hiding them.
Mystery | Thriller | Fiction | Suspense
In a Dark, Dark Wood
"Nora hasn't seen Clare for ten years. Not since Nora walked out of school one day and never went back.

There was a dark, dark house.

Until, out of the blue, an invitation to Clare's hen do arrives. Is this a chance for Nora to finally put her past behind her?

And in the dark, dark house there was a dark, dark room.

But something goes wrong. Very Wrong.

And in the dark, dark room…

Some things can't stay secret forever."
I feel like this one doesn't explain enough about the book to get you to read it, but honestly, I just want to know what goes wrong in the dark, dark house in the dark, dark room. Does Nora kill Clare? Who knows!
Mystery | Thriller | Fiction |Suspense
All of these blurbs have come from Goodreads
Please let me know if you have read any of these books!
You can definitely see a theme in genre here…
Chelsea x