Hello and welcome to my 21st book review! I kept seeing this book at the shops and was very interested, but the blurb didn't really hook me. It took a few tries for me to finally buy this book. One day I saw it come up in my emails at a reduced price, so I purchased it then. I am subscribed to '
BookBub
' which is an email subscription that emails you daily with what books are free or on special for that particular day or time. I have mine set for Apple iBooks, but you can set yours to what best suits you. I either read physical books, or I read them off my iPad on iBooks. You can check out more at
BookBub
.
This weeks book is:
THE RIGHT GIRL by Ellie O'Neill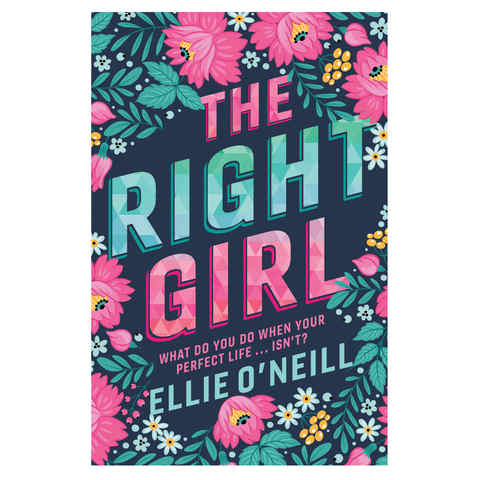 "Freya has the best life – she's officially in love and her florist business, Blooming Brilliant, is going from strength to strength. Two years ago, it was a different story. She was barely employed as the worst waitress in the world, with no hope of a boyfriend and no bank balance. But then she got BBest, a lifestyle app that knows you better than you know yourself. It changed everything. It streamlined her life, taking her likes and dislikes and skills and foibles, and gave her the best options so she doesn't make a mistake anymore. Freya has never looked back – and neither has anyone else. Everyone loves BBest, it's a game changer. But if she's so in love, why doesn't she feel exactly right? And who is that mysterious man in her Grandfathers beloved bookshop with soulful eye that leave her unstitched? All of a sudden Freya has so many questions – and no one seems to be able to answer them She begins to wonder what she really agreed to when she let BBest into her life. Then her Grandfather is arrested, and Freya is thrust into a world she could never have imagined in her shiny, successful existence."
Can she really trust BBest? Is it her friend, or her worst nightmare?
This book wasn't at all what I was expecting, I have to say. I didn't know it would be mainly based around a silly phone app. All the talk about this app became really annoying. I liked the whole story line of this book though, and everything that happened in it. I always enjoy the secrets and what they do to people when they are out in the open. All in all, it was a very interesting concept, I have read nothing like it before!
All I was expecting with this book was a cozy read about a florist and what happens in and around her life, and I was pleasantly surprised it wasn't really. I read this book a lot quicker than I originally thought I would – I think it was a little shorter to the ones I usually read.
I give this book a 7/10!
I would recommend reading to have your own opinion on it – I feel like this is a love or hate book!
The genre of this one is fiction.
Not one of my favourites but I enjoyed it. I enjoy most books, the lowest rating I have given is a 5 which is pretty damn good. I am also a generous person. There has only been one book I refused to finish as I had NO idea what was going on. I'm sure I'll give it another try one day.
Thanks for reading!
Chelsea x