Today I'm going to tell you about the horrific story of what happened to Aya Maasarwe. I apologise if her name is spelled incorrectly in any way, as it was originally written as "Aiia". I have seen many different articles spell it different ways, but I am lead to believe that the correct spelling is 'Aya'.
This was a very recent case, that happened just this year, in January 2019. This murder took place in Melbourne, Victoria, and shook the whole of the state.
Aya was 21 years old, still full of so much life. She came to Melbourne from Israeli, 5 months before her death, for a 12 month exchange student program at La Trobe University, studying Business.
Aya was described as funny, intelligent and gifted. She planned to use her university degree alongside her father in his business.
"She was very friendly, knowledgeable, easy-going and someone who knew a lot. It was quite refreshing to talk to her."
In the months she spent in Victoria, she visited the Shrine of Remembrance and explored the Grampions – it was said that she loved all the adventures in her first few months.
On a Tuesday night, she had attended an event at Flagstaff Gardens (located in Melbourne) for people keen to practice their English – this was around 7pm-8pm. After this, she then attended a comedy show at The Comics Lounge, located in North Melbourne.
After the show was finished, some friends drove Aya to a tram shop in the city centre, where she caught a tram at around 10:50pm. This particular tram was heading toward Bundoora, located north of the city. Bundoora was where she had been living while studying at the university nearby.
She departed the tram at around 12:10am – this tram stop was just over a kilometer from where she lived.
She was Facetiming her sister while leaving the tram, who was overseas. She had gotten less than 50 metres from the tram stop when the phone appeared to fall to the ground – this was heard, along with some voices, and then the call ended. Her sister continued to try and call back, but there was no answer. It was believed that she was attacked on the footpath.
At about 7am the next day, the body of Aya was discovered by passers-by outside a nearby shopping centre. The police have not released the injuries out of respect for her family. She died on 16th January 2019.
"All I wish to say is, this was a horrific attack. This was an absolutely horrendous, horrific attack inflicted on a completely innocent young woman who was a visitor to our city."
The death has prompted police to up the security in this area where the attack occurred. La Trobe University has also said that they will be increasing the security around the campus.
Her family are still absolutely devastated by her violent death in a city they thought was safe, and her father flew straight to Melbourne as soon as he was notified of the news.
Her body was eventually taken back to Israel for burial.
Shortly after the horrific death, a 20-year-old male, Codey Herrmann was arrested in relation to the death of Aya. He was sitting in a barbecue area at a small park with a young woman when the police came by on Friday morning. The area was a popular hangout for teenagers in the area, "sometimes the people in there get a bit rowdy, but they have always been harmless."
It is understood that the young man was soon identified as a key person of interest after some forensic tests were conducted on clothing that was found near where Aya took her last breath.
It is believe he would have left the scene covered in Aya's blood, and he also stole several items from her handbag.
Soon after being arrested, Codey Herrmann was charged with the murder and rape of Aya Maasarwe.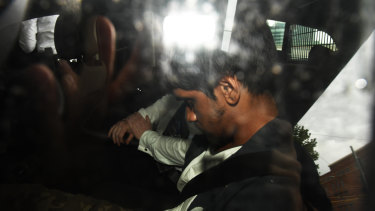 A Vigil was held at the Victorian State Parliament building in the Melbourne CBD – the whole area was packed with people there to show their respects and say goodbye to the innocent young woman. Mourners also laid flowers and handwritten cards.
"Aya was special girl. All the time she think positive, she happy. She can make everything even from the worst situation happy and joke. She is very friendly. She is really very, very happy" – her father.
This is absolutely awful what happened, and in my own city too. Melbourne is meant to be the most livable city in the world. I honestly don't know how sometimes.
RIP Aya.
Chelsea x