Hi all, a little while ago I was very excited as Chris Lilley was bringing out a brand new TV series, Lunatics. If you don't know, Chris Lilley is a well-known Australian actor and producer. He creates 'mockumentaries', otherwise known as funny documentaries. Previous TV series he has brought out are:
We Can Be Heroes (2005)
Summer Heights High (2007)
Angry Boys (2011)
Ja'mie: Private School Girl (2013)
Jonah from Tonga (2014)
So he has been creating TV shows for quite a while now. The last series he brought out before Lunatics, was 5 years ago, so either he took a bit of a break, or this one took a while to put together (I wouldn't be surprised!) I'm not even sure if Chris Lilley and his shows are well known out of Australia, but anyway, this post will give you a bit more context about the show, and if or if not you might enjoy watching it yourself.
Lunatics was uploaded to Australian Netflix on 19th April 2019. I was hanging out for this day as I am a big fan of his series, I find them hilarious. And there are 10 episodes (not enough). Chris Lilley's shows I would say are an acquired taste, you either love them or hate them. In this case, I love them, but my Fiance hates them!
This is going to be a little bit of context of the show, and also a little review from me and what I thought. Did it reach my expectations? Soon you'll know…
All of his shows basically focus on a few main characters, including his newest series, Lunatics. Each character has different characteristics, personalities, interests, careers and are a variety of different ages, and genders. All played by the one and only, Chris Lilley. Lets go through the characters:
Keith Dick (yes, that's right)
A fashion wannabe who is in love with Karen, a cash register
Becky Douglas
A 7-foot-3 girl who has moved to California to attend college with her non-identical twin sister
Gavin McGregor
An obnoxious 12-year-old destined to become the future Earl of an English country estate
Jana Melhoopen-Jonks
A South African lesbian pet psychic to the stars
Quentin Cooke
an incompetent real-estate agent who dreams of one day becoming a famous DJ and artist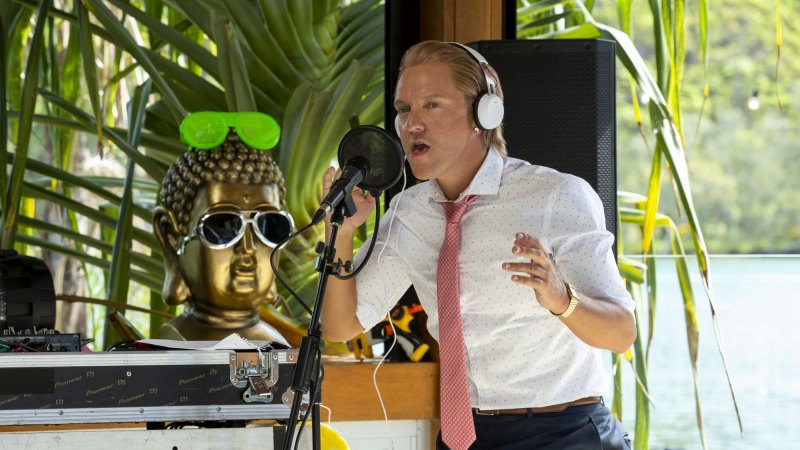 Joyce Jeffries
a former adult film star who has become an extreme hoarder
Despite a few of these characters living overseas, the whole show is filmed in various locations in Australia:
Gold Coast (Queensland, Australia)
Woolmers Estate (Tasmania, Australia)
Murwillumbah (New South Wales, Australia)
My Overall Review
I really enjoyed watching the series, my eyes were glued to the television throughout the 35-minute episodes. This is quite rare as I am usually on-and-off scrolling on my phone. Some of the things in the show are so stupid and ridiculous that they are funny. I think it was a really good mix of characters, and showed a lot of what they get up to in their day-to-day lives, and what they have achieved. Overall, I didn't get as many laughs as I thought I would out of the show, sadly. Parts were funny, but just not enough to make me laugh out loud. I think it would be much better watching with someone else, and not alone. I would definitely re-watch this series with friends, as my Fiance doesn't want a bar of it!
I rate this series a 8/10! My favourite to this day is still Summer Heights High and Angry Boys. Let me know if anyone would like me to review these too, as I would be happy to.
Thanks so much for reading!
Chelsea x