Hi everyone, and welcome to part 2 of the best books I've read! Make sure to let me know in the comments if you've read any of these and what you thought of them!
Big Little Lies – Liane Moriarty
My Rating – Really Good
"Big Little Lies follows three women, each at crossroads:
Madeline is a force to be reckoned with. She's funny and biting, passionate, she remembers everything and forgives no one. Her ex-husband and his yogi new wife have moved into her beloved beach side community, and their daughter is in the same kindergarten class as Madeline's youngest (how is this possible?). And to top it all off, Madeline's teenage daughter seems to be choosing Madeline's ex-husband over her. (How. Is. This Possible?).
Celeste is the kind of beautiful woman who makes the world stop and stare. While she may seem a bit flustered at times, who wouldn't be, with those rambunctious twin boys? Now that the boys are starting school, Celeste and her husband look set to become the king and queen of the school parent body. But royalty often comes at a price, and Celeste is grappling with how much more she is willing to pay.
New to town, single mum Jane is so young that another mother mistakes her for the nanny. Jane is sad beyond her years and harbours secret doubts about her son. But why? While Madeline and Celeste soon take Jane under their wing, none of them realises how the arrival of Jane and er inscrutable little boy will affect them all.
Big Little Lies is a brilliant take on ex-husbands and second wife's, mothers and daughters, schoolyard scandal, and the dangerous little lies we tell ourselves just to survive."
Fiction / Mystery / Contemporary / Women's Fiction
No Filter – Grace Victory
My Rating – Really Good
"From struggling with an eating disorder and body image issues to flashing Harry Potter (yes, that really did happen), Grace Victory has experienced it all.
Here, in No Filter, Grace shares her inspirational story of growing up in a troubled household, battling with depression and finally overcoming it all by learning to love herself just as she is. After years of self-loathing and self-destructive behaviour, she hit an all-time low, but thanks to therapy, good friends and an award-winning blog, she has rebuilt herself to become a TV presenter and an inspirational role model for young people. Thanks to her bravery, instinctive honesty and ability to break down taboos, Grace is now able to speak openly about her personal battles and she regularly offers guidance to her legion of fans.
Brimming with hilarious anecdotes and no-nonsense advice, the Internets big sister tells you everything you need to know about accepting yourself and fighting back, in style."
Nonfiction / Biography
Confessions of a Tinderella – Rosy Edwards
My Rating – Loved
"The laugh-out-loud true story of one girl's experience of life on Tinder
Rosy Edwards is the epitome of contradictory 20-something year old. She's frugal when it comes to food shopping, but is willing to spend 17 pounds on shampoo. She's career-minded, she just doesn't know which career to have in mind right now. And although she's happy being single, a part of her kind of wants a boyfriend. So after a few unsuccessful dates with friends of friends (read: being forced to date their shortest/dullest/oddest acquaintance), she put herself on Tinder, the app that has transformed the world of online dating. And she soon learns the unspoken rules the hard way: always reject a guy with black and white profile pics (he is ginger and/or ugly); is wearing a hat (bald); has a shot of his torso (moron); or is not standing beside anything saleable (5″8 and under). And then there are the dates themselves. From a 3:30am dinner date to a borderline drug bust in Chelsea, Rosy has experienced it all, swinging through her love life on the trapeze of Tinder. She falls for the wrong guys, ditches the nice ones, but can she finally find her happy ending? Amazingly honest and hilariously funny, Rosy's story shows us all that the key to a successful love life could just be a swipe away."
Romance / Contemporary
In a Cottage in a Wood – Cass Green
My Rating – Loved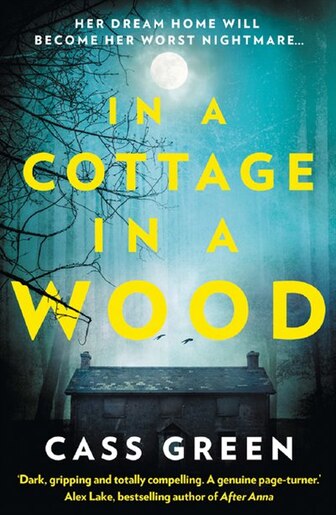 " A strange encounter…
Neve comes across a troubled woman called Isabelle on Waterloo Brigade late one night. Isabelle forces a parcel into Neve's hands and jumps to her death in the icy Thames below.
An unexpected gift…
Two weeks later, as Neve's wreck of a life in London collapses, an unexpected lifeline falls into her lap – a charming cottage in Cornwall left to her by Isabelle, the woman on the bridge. The solution to all her problems.
A twisted secret…
But when Neve arrives, alone in the dark wood late one night, she finds a sinister-looking bungalow with bars across its windows. And her dream home quickly becomes her worst nightmare – a house hiding a twisted secret that will change her life forever…"
Thriller / Mystery / Fiction / Suspense
Three Wishes – Liane Moriarty
My Rating – Loved
"Lyn, Cat and Gemma Kettle, beautiful thirty-three-year-old triplets, seem to attract attention everywhere they go. Whenever they're together, laughter, drama and mayhem seem to follow. But apart, each is very much her own woman, dealing with her own share of ups and downs. Lyn has organised her life into a big checklist, juggling the many balls of work, marriage and motherhood with expert precision, but is she as together as her datebook would have her seem? Cat has just learned a startling secret about her marriage – can she bring another life into her very precarious world? And can free-spirited Gemma, who bolts every time a relationship hits the six-month mark, ever hope to find lasting love? In this wise, witty, hilarious novel, we follow the Kettle sisters through their thirty-third-year, as they struggle to survive their divorced parents dating each other, their technologically savvy grandmother, a cheating husband and champagne hangovers."
Fiction / Womens Fiction / Contemporary
Thank you for reading, I hope you've found some ideas of books to add to your reading lists!
Chelsea x