So, Married at First Sight is an Australian TV series. This years season 6 aired on Channel 9, as it always does. The show started on 28th January 2019, and ran for a few weeks. This is the first season of this that I have actually watched. The series as a whole first aired in 2015. This is going to be quite a long post for me, so grab yourself a drink and a snack, and buckle up!
The show is based on the Danish program, with the same name. On the show, couples are picked out by relationship experts to get married at first sight. Unlike other versions of the show, couples don't partake in a legally-binding marriage due to Australian rules and regulations.
So the couples spend their wedding day together – this is the first time of ever meeting, then on their first night as husband and wife, spend the night at a hotel with one another. After this, they then leave for their honeymoon. After this, they live together and meet at 'commitment ceremonies' once a week and choose whether they would like to continue to stay, or leave. If one person says 'stay' and the other, 'leave', then they both have to stay at least another week. If they both pick to leave, then they both go. They also have group dinner parties once a week, to catch up with the other contestants.
I LOVED watching the weddings. I found it so entertaining, and I loved looking at every detail, since I'm getting married next year and still looking for ideas. But after these, it was meh. Just drama, drama, DRAMA! Most of it pointless drama too, and there was also a heap of controversial stuff that went on too. A lot of hours of my life were wasted watching this show, let me tell you. But I stupidly kept watching to the end as I was already trapped into it and committed.
Now, lets go through the couples and what I thought of them!
Cameron & Jules
(Ex-Professional Cricketer & Business Manager)
Literally my favourite couple on the show, and they are still together to this day. They just seemed like such lovely, genuine people! They weren't apart of any of the drama at all, they basically just sat back and watched it all unfold in front of them.
"Jules commented that one of the things she loves best about Cam is that he compliments her and knows how to respond to every situation. During their reception, just before the first dance, the sound system stopped working. Cameron started dancing without any music, lightening the mood, with other wedding guests even joining in on the silent disco dance. During their honeymoon in New Zealand, Jules sat Cam down for a serious conversation. For Jules, having a family and children is a very important want and need in her life, and discovering that having kids is also of importance to Cam made her very emotional. They were the only couple that are in a stable and loving relationship throughout the experiment. Cam accepted Jules' offer to move in with her as soon as the experiment ends. At the final vows, Cam proposed to Jules, she said yes and they are planning a legal wedding in 2019."
Nic & Cyrell
(Electrician & Healthcare Consultant)
I feel like Nic was a nice enough person, and I feel sorry how he went through cancer at such a young age, but has pulled through it all, thriving. Cyrell was SO annoying and I couldn't stand her, but she was also hilarious. She didn't take anyone's bullshit, and would always speak up for herself, and others. I think she caused most of the drama as she caught a lot of people out.
"Nic & Cyrell wed in episode 1, and stayed together despite the ups and downs since the 3rd commitment ceremony. In the show, Cyrell had a physical altercation with Martha, over a rumor that Nic had felt Jessika up under the table at one of the dinner parties. This resulted in Cyrell and Nic spending the rest of this particular week in separate apartments. Together, they came together at the dinner party when Jessika pulled Nic aside to tell him that she found him attractive, this is met with rejection from Nic and he went back and sat with Cyrell. During the next commitment ceremony, Cyrell again apologised for her behavior towards Martha, but Nic decided to leave. Ultimately, Cyrell decided to stay so they are obliged to be together for at least another week. However, after Nic's shortened homestay with Cyrell, due to her brother kicking him out, and Cyrell blowing Jess' affair with Dan in the open to save Mick, they ultimately left the experiment in the 6th commitment ceremony , but on good terms."
Jessika & Mick
(Administration Officer & Plasterer/Farmer)
I really liked Mick, though he definitely didn't belong with Jess as they didn't match and she treated him pretty badly. I hated Jess, she is the type of person you wouldn't want to hang out with. She was constantly causing drama, spreading gossip AND cheating. Jess cheated on Mick in the show with other contestant, Dan. She comes across as the definition of 'problem'. Her lips also look like 2 sausages as they are so big from botox.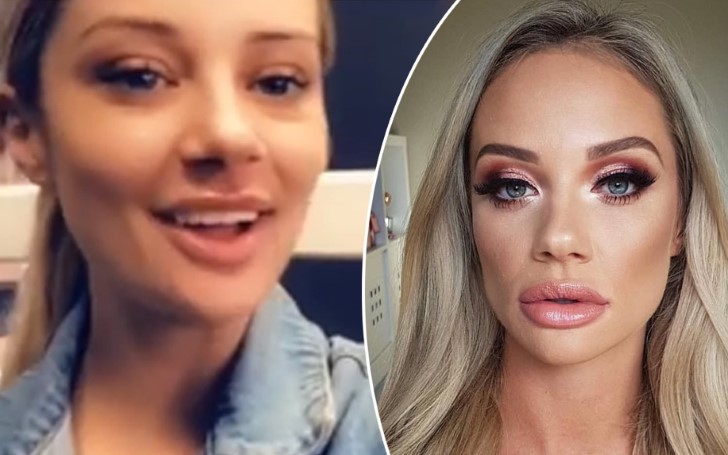 She honestly looked so pretty before she had work done on her face. Mick was so funny as he is super bogan, and often rocked up to dinner parties wearing shorts and thongs/flip-flops. I hope he ends up with someone that cares about him.
"Jessika and Mick marry in episode 2, and stayed in the experiment for most of the time, despite Mick constantly choose to leave, and despite Jess' flirting and kissing other men, and her lack of interest towards Mick. Jess only chose to stay to secretly spend more time with Dan. After the 6th commitment ceremony Jess and Dan opened up about their relationship. Mick and Tamara (Dan's partner) no longer had the desire to stay in the experiment at all, and were granted an early exit. The experts let Jess and Dan re-enter the show as a newly formed couple"
I thought allowing Jess and Dan to stay together in the show was disgusting and a disgrace. It is showing such bad example to the millions of viewers.
Dino & Melissa
(Meditation Coach & Talent Agent)
I wasn't a fan of Dino. He was weird and annoying, and was quite self-centred. He is very quiet in nature, the complete opposite to Melissa who was loud and proud. I think Melissa would be fun to have a night out with. These two were just too different. Dino was very spiritual, and Melissa didn't understand any of it, nor believe it any of it (I'm with her there).
"Dino and Melissa have very different personalities. Particularly at the beginning, they had trouble communicating, often feeling as if they were each speaking different languages. Their relationship grew stronger during their trip to the Gold Coast, however Dino admitted to recording Melissa's private conversation with her sister which caused a rift in the relationship. They both left after this issue came up."
Mark & Ning
(Ex-Army/Personal Trainer & Hairdresser)
Mark seemed like an ok person, but I really didn't like Ning. She was cold and mean towards Mark a lot of the time, and pretty bitchy. Ning was afraid of commitment and gave Mark a pretty hard time.
"This couple put barriers up as they have either been through something major previously (Ning) or haven't had a strong intimate relationship prior (Mark). So they both needed their walls to be broken down in order for any sort of affection and trust to form. Ning also found Mark's application of commando style of talking when they were in the gym together disrespectful because Ning was not a customer, and is not a fan of exercising. However, both decided to stay in the 2nd re-commitment ceremony, and the experts put ultimatums to Ning that she can no longer threaten to leave, or pre-pack her bags during the week, which at first, saved the relationship. However, they had little to no intimacy and when Jessika said that Mark would hang out with other girls at the end of the experiment, which saw Ning inconsolable and the walls back up. At the final vows, Ning saw there was a future with Mark, but Mark saw otherwise, stating that he "haven't found it with you", which saw her shocked and saddened."
Mark really shut Ning down at the end of the show, it was kind of relieving to see and hear. He was too good for her, and he finally saw that.
Mike & Heidi
(Electrician & Radio Announcer)
Mike was probably one of my most hated contestants in the show. He was so sexist, irritating and self-centered. He also hated listening to Heidi, which is not a good thing. I actually liked Heidi. She seemed like she had a really troubled past, but never took that out on anybody else. She seemed like a lovely person that just wanted to be loved and cared for.
"Heidi liked to talk about things in depth with Mike, who had previously never been in love. Both are confident people and they had strong physical connection. However, Mike's tendency to give advice to people makes Heidi, who dwells on issues and has a needy personality, extremely uncomfortable. This came to a head at the third dinner party. John made Heidi attempt to provide advice for her hypothetical friend for role reversal, which helped them stay in the experiment. While the experts constantly criticize Heidi for sabotaging the relationship, Mike's selfish tendencies are mostly left unresolved. It came to a head in the final week, when Mike took Heidi on a talk sailboat again, when Heidi is not only prone to seasickness, but is also petrified of heights. But at the final vows, while they commit to each other, they have broken up by the time they were at the reunion."
Sam & Elizabeth
(Tradie & Store Manager)
I hated Sam, he was just a stuck up, lying asshole. Lizzie was a bit crazy but she spoke her mind. She did her hair and make-up pretty intensely each day, but she shouldn't have because she looks so much better and prettier with minimal make-up! She was treated really appallingly by Sam – he treated her badly, disrespected her and cheated on her.
"Sam skipped out on the honeymoon and Elizabeth went missing for a period thereafter. The couple didn't communicate well. Sam had always been upfront about having no attraction to Elizabeth whatsoever. While Elizabeth kept cutting Sam off mid-sentence and seemingly starting arguments, Sam had barely any patience left and called her 'crazy'. Sam, who battled chicken pox during the season, found out after the fact that Elizabeth had been unwell and stayed in hospital for week 2, while he only stayed on for the sake of fostering a relationship with Ines. They ended up having a secret affair that was exposed by event the rest of the group witnessed. Sam continued to lie about the extent of the relationship until the end of the experiment for them. Since Sam cannot commit to Ines, their affair was also over."
Lauren & Matthew
(Make-up Artist & Videographer)
Lauren seemed to start off nice, but there was a gradual decline as the show went on. I really liked Matt though, he was quiet, caring and genuine. A little too quiet and reserved for Lauren, though.
"Matthew began the experiment as the show's inexperienced virgin. Lauren felt a lot of responsibility to give Matthew a good experience. Ultimately, Lauren wanted Matthew to be physically more passionate and adventurous with her. He didn't feel the urge to be a dominant partner in the bedroom, and concluded to himself that it must be because he isn't attracted to Lauren. The couple received no counselling on the matter and their marriage deteriorated dramatically within a day. They were the first couple of the season to leave. It is later revealed that Matt has found a new girlfriend who shares more of his values.
Bronson & Ines
(Entrepreneur & Legal Assistant)
Oh my god.. what can I say about Ines? She's cold, mean, and very much out there. She was the spotlight on all the drama at the start. Bronson was so cool, calm and collected. He seemed like a nice guy, and I felt so sorry that he was paired with Ines. The 'experts' got so many couple wrong.
"Ines didn't seem attracted to Bronson from the beginning, although Bronson was patient and giving her time to build a relationship. It became clear they were not getting along, so the experts put them in separate rooms. Ines apparently was attracted to Sam, and professed to being attracted to him. She said she stayed in the experiment merely to stay close to Sam. Ines then pursued an affair with Sam, and spent the night with him while Elizabeth was away due to an unspecified illness. Bronson was left completely in the dark until Sam blew the cover wide open at the third commitment ceremony. Ines continued to lie about the affair until the end of the experiment, which upset Cyrell enough to confront her. On 26 March 2019, it was revealed that Ines was sent to court for drink driving and has been charged."
Michael & Martha
(Primary School Teacher & Make-up Artist)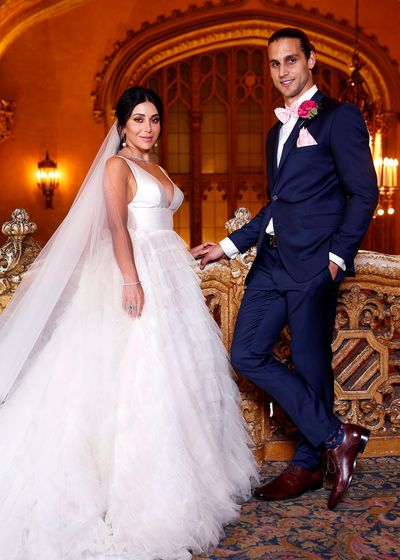 I thought these two matched really nicely, as they both had european backgrounds and grew up in similar types of families. Michael seemed like a cool, caring guy, and great with kids obviously since being a school teacher. Martha.. seemed ok at the start. But her true colours began to show throughout the experiment. Now I see her as being totally fake.
"Martha had uprooted and started her career in Bondi, Sydney, when she was originally bred in Melbourne. Her guarded attitude also made it difficult for the relationship with Michael to progress. Michael's good-guy image initially threw Martha off as being as disingenuous as her personality. And throughout the whole experiment, Martha has also helped Jess stray knowing that it helps her camera time. When they returned to Michael's school, where he teaches PE, she realises that he is a genuinely nice person. At the week before final vow, Martha's reluctance to return to Melbourne eventually convinced Michael to also address the logistical and her attitude issues and not commit to the relationship, but he eventually recommitted and is willing to move to Bondi."
They are apparently still together to this day, but I'm not sure if I believe it.
Suzie & Billy
(Old Age Nurse & Barista)
Suzie and Billy were one of two 'intruder' couples. I felt SO sorry for Billy throughout the show. He seems pretty genuine and kind, whereas Suzie was a 'princess' and wanted everything to be about her. She was pretty much a cow. She also has a child in real life named 'Baby'….. so there's that.
"One of two "intruder" couples, Susie & Billy met & wed in Sydney in episode 18. Susie is a solo mother of Hungarian descent, but her disapproval of Billy's sensitive and gentlemanly ways, turned him into a victim of bullying. Though they chose to stay after the first week, the issue remains unresolved in their second week, when the couple returns to Billy's hometown. It still wasn't resolved a week later, which saw Billy walk out on her in the second day of the wife's homestay, where he walked out on his lunch with her friends. These events was enough for both of them to leave the experiment at the 6th Commitment Ceremony."
Dan & Tamara
(Car Broker & Administrator)
The second of the 'intruder' couples. I felt sorry for poor Tamara in this. Constantly being lied to and taken advantage of. She seems like a nice person. Dan was a massive, cheating liar. He put on a nice, happy face, but behind it was nastiness. At the start they seemed like they really meshed well together, but it quickly became the opposite.
"Dan & Tamara met and wed in Sydney in episode 18. Daniel is a single father, and Tamara lost her mother. Their honeymoon coincided with the 3-year anniversary of her mother's passing. At a recent dinner party, Daniel was hit on by Jessika, and they engaged in kissing and deciding to stay in the experiment in order to spend more time together."
So, all-in-all, I would not like to watch this show again next year. Such a waste of my time, but who knows, I might get caught up watching it again. If I do watch it, I only want to for the weddings as they are the best part of the show. Let's face it, I will probably end up watching the whole thing. Ugh. It's rubbish, but you just can't look away.
Thank you for reading this super long post, I really appreciate it! Let me know in the comments if you have ever watched this show?
Chelsea x