I'm going to be honest with you, I am not into Halloween at all. I was never brought up celebrating Halloween as it is a very American thing. Though now days, it is getting bigger and bigger each year, even here in Australia. I always now make sure that we have chocolate/lollies on hand just incase kids come to the door – because I don't want to risk them doing trick, I'd much rather give a treat.
I almost wasn't going to do a Halloween related post at all, and just skim over it. But it is just a bit of fun I suppose! So I decided I would go through some of my favourite scary movies. I don't watch horror movies too often as my other half can't stand them, so if I do watch one it has to be on my own, and that isn't ideal.. I do quite enjoy scary movies though. There is still a few out there that I haven't seen also that I would like to cover on this list!
Spooky Favourites
The Woman In Black (2012)
"A young solicitor travels to a remote village where he discovers the vengeful ghost of a scorned woman is terrorizing the locals."
When I saw that Daniel Radcliffe was in a movie that wasn't Harry Potter related, I was really interested to see it! I saw this at the movies with my Mum & Dad and we all loved it, I have seen it a few times since, it's one of my favourites. It is full of jump-scares, and I always laugh when whoever I'm watching it with jumps. It also has a good story line.
The Conjuring 1 (2013) & 2 (2016)
I really enjoyed these, full of jump scares with a storyline also!
The Conjuring
"Paranormal investigators Ed and Lorraine Warren work to help a family terrorized by a dark presence in their farmhouse."
The Conjuring 2
"Ed and Lorraine Warren travel to North London to help a single mother raising 4 children alone in a house plagued by a supernatural spirit."
Paranormal Activity (2007)
Ok don't judge me, but I like the Paranormal Activity movies haha. I think they're so bad they're funny and I laugh when anyone screams. These have always reminded me of the 'ghost' videos I used to watch on YouTube when I was younger. There are five of them and they all follow the same sort of thing, just with different families.
"After moving into a suburban home, a couple becomes increasingly disturbed by a nightly demonic presence."
Annabelle 1 (2014) & 2 (2017)
I'm pretty sure everyone finds dolls super creepy. I've always been more of a teddy person myself. Dolls just always look like they're alive and will start moving at any minute. I knew Annabelle was going to be creepy AF when it came out, full of jump scares just like The Conjuring's.
Annabelle
"A couple begins to experience terrifying supernatural occurrences involving a vintage doll shortly after their home is invaded by satanic cultists."
Annabelle 2
"Twelve years after the tragic death of their little girl, a doll-maker and his wife welcome a nun and several girls from a shuttered orphanage into their home, where they become the target of the doll-maker's possessed creation, Annabelle."
Spooky Movies I want to see
The Nun (2018)
I this is the similar to The Conjuring and Annabelle, I'm pretty sure I'd like this one.
"A priest with a haunted past and a novice on the threshold of her final vows are sent by the Vatican to investigate the death of a young nun in Romania and confront a malevolent force in the form of a demonic nun."
IT (2017) & Child's Play (2019)
I have never seen the original IT either, which I feel like I also need to watch – My Mum & Dad always said I should watch it because of how creepy it is – my Mum is really into scary movies haha.
IT
"In the summer of 1989, a group of bullied kids band together to destroy a shape-shifting monster, which disguises itself as a clown and preys on the children of Derry, their small Maine town."
Child's Play
"A mother gives her 13-year-old son a toy doll for his birthday, unaware of its more sinister nature, he also kills people who disobeyed Andy."
It Follows (2017)
I've had this on my list on Netflix for AGES, I just haven't really got around to watching it – there's always other movies and TV series that come up that I start watching instead. I'm really interested to see how this one plays out.
"A young woman is followed by an unknown supernatural force after a sexual encounter."
Annabelle Comes Home (2019)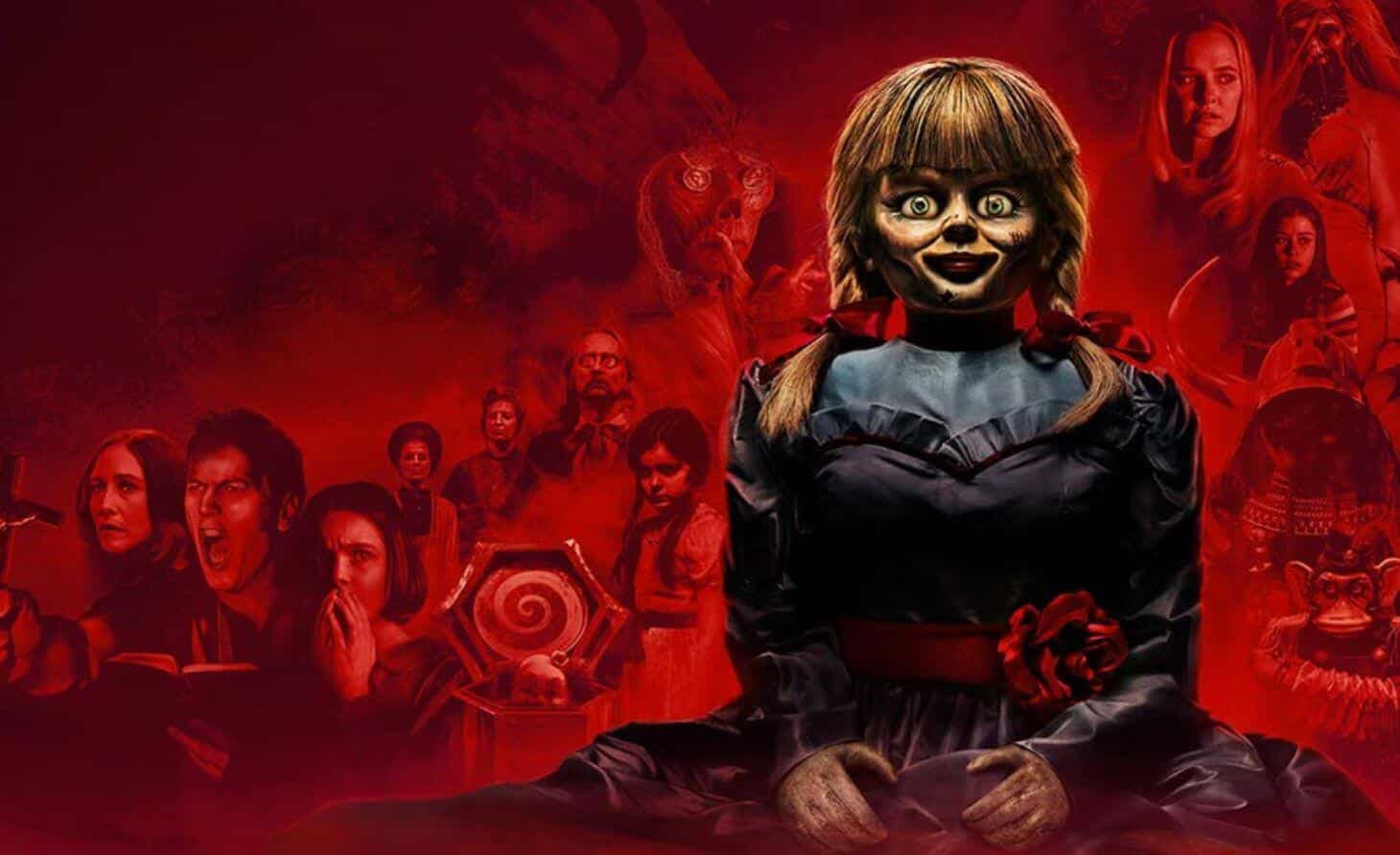 I've seen the others so obviously I need to see this one too! I am looking forward to watching it!
"While babysitting the daughter of Ed and Lorraine Warren, a teenager and her friend unknowingly awaken an evil spirit trapped in a doll."
That is all I have for you today in this Halloween special! I hope you all have a fun and spooky Halloween!
Chelsea x