I have been smashing out so many blog posts lately while reading this book I'm about to review. I haven't done a book review in ages as this one has taken me so long to get through! No idea why, I must have just been more tired than usual so I wasn't reading as many pages.
This weeks book is…
What Alice Forgot – Liane Moriarty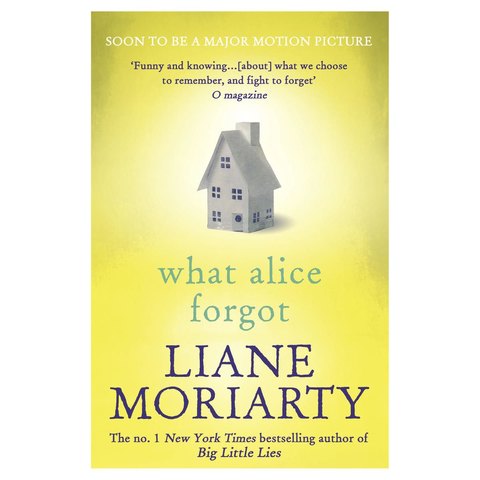 "Alice Love is twenty-nine, crazy about her husband, and pregnant with her first child.
So imagine Alice's surprise when she comes to on the floor of a gym and is whisked off to the hospital where she discovers the honeymoon is truly over — she's getting divorced, she has three kids and she's actually 39 years old. Alice must reconstruct the events of a lost decade, and find out whether it's possible to reconstruct her life at the same time. She has to figure out why her sister hardly talks to her, and how is it that she's become one of those super skinny moms with really expensive clothes.
Ultimately, Alice must discover whether forgetting is a blessing or a curse, and whether it's possible to start over."
When I started reading the first few pages of this book, I thought it was really weird and I was actually considering stopping… but I am SO glad I continued. It was such a great read! So basically Alice injurs herself and forgets the past 10 years of her life – she doesn't even remember her children as they are all under 10 years old. She remembers her husband, but when she wakes up she finds out that they are getting a divorce and have been living seperately for 6 months. She was absolutely shocked at this, and had no idea how this could have happened. She was still in love with him.
She also comes to find out that she has a new boyfriend, the principle of her childrens school. She doesn't remember this man at all, and has no feelings towards him. All she wants to do at this point is get her husband back – but it definitely came with it's challenges.
Will Alice get back with her husband? Will her memories return from the past 10 years? You'll need to read and find out!
This is the best Liane Moriarty book I have read yet – I really, really enjoyed it. It covers different things like memory loss, relationships, children and infertility.
The genres of this one are fiction, contemporary and romance.
I give this one a 10/10! It's been a while since I've rated a book that.
There is SO much to this book, but it is easy to follow once you get into it. I am so glad I purchased this one!
Thanks for reading my review!
Chelsea x